The IT sector is one of the top two industries in the country. Several IT companies dealing with software development, software management, business process outsourcing, and more are making it big on the global platform. Today, we are here to talk about two such companies that are delivering unparalleled IT services to revolutionize the business landscape across the world.
Cumulations Technologies is a technology-driven mobile application development company that has delivered hundreds of successful IT products. The company is noted for its expertise in developing engaging mobile apps and scalable IoT products.
Broca is a young and innovative organization that has recently launched a groundbreaking product that facilitates easy content marketing. The incredible software leverages the immense potential of AI in content marketing to generate high-quality content in minutes. It is an incredible content marketing tool that seeks to automate the tedious task of creating and maintaining content.
let us learn a little about the relation between AI and content marketing. Let us find out how leading marketers are using this technology to fast-track content generation, improve content promotion, and meticulously analyze content performance.
What is AI and How Does it Boost Content Marketing ?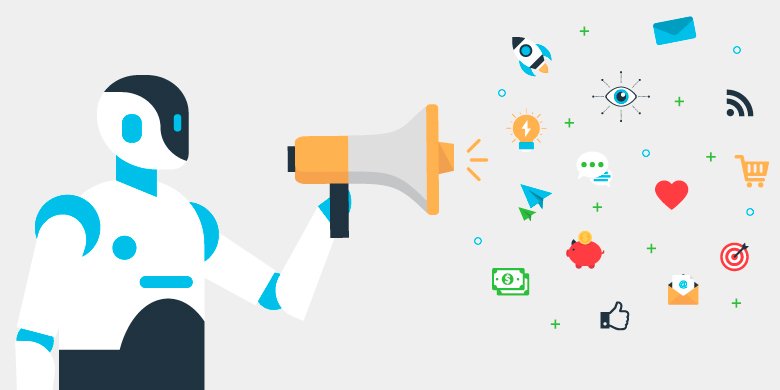 Essentially, AI refers to machines that mimic the cognitive capabilities of the human mind, especially learning and problem-solving. Technology plays a significant role in the field of content marketing, enabling businesses to streamline their processes at the time of content overload.
Additionally, content marketing is a highly dynamic field with the rules changing year on year. AI enables marketers to uncover these ever-changing trends in content marketing by evaluating user data and allowing marketers to make sense of user intent.
Below are some ways AI is changing content marketing.
Automatically Generate Content
Using AI, the marketers can automatically generate content for simple stories, such as everyday bulletin or sports coverage. It is quite likely that you have already read content generated by AI without even realizing it.
With this technology, short blurbs or snippets that are fact-based and simple are very easy to put together. And this ability to automatically generate content helps marketers to save valuable time and effort.
Several companies such as Yahoo, Fox, Washington Post, etc. have been using AI to generate stories for quite some time now.
Thanks to AI, marketers are flooded with data about their customers. And savvy businesses know exactly how to filter this data and use it to offer an incredible customer experience.
Artificial intelligence uses algorithms to sort through all the collected data and develop valuable tactics to market content. With these tactics, it becomes easy to offer the right content to the right people, thus improving its efficacy. For instance, marketers can find out which type of content will be more popular with a specific group and why.
This is a significant benefit of AI in content marketing as it takes away all the guesswork. Businesses can explicitly identify what their customers like and provide them with that to improve customer loyalty.
Offer More Personalized Content
Using AI, companies collect details such as age, location, personal interests, etc. of the customers to offer them personalized content. Also known as predictive intelligence, this enables businesses to operate more efficiently. It helps them decipher an individual's content preference that appeals to the needs and interests.
Whether it is a Facebook ad or a suggested place Near You on Google Maps, AI can really help to provide better content. In fact, this ability has enormously benefited companies like Netflix, Spotify, and YouTube offer appropriate suggestions to the customers and keeps them engaged.
Deploy Chatbots to Simplify User Interaction
Chatbots are computer assistants who use AI to mimic conversations with users. Several companies are using AI-powered chatbots as marketing assistants to respond to user queries apart from analyzing data and generating content.
These AI chatbots provide instant answers to what regions to target or what content to provide to furnish a better user experience. So, with these bots, identifying the specific traits of the target audience and planning and analyzing various hypothetical plans to choose the best one has become much easier.
Now let us look at Broca and understand how the product can help to automate content marketing.
Broca- An Inventive Product to Scale Your Content Marketing with AI
Broca is an advanced AI software that helps to generate ad copies and other forms of marketing content. It is a smart assistant that enables marketers and copywriters to churn out effective content copies within minutes.
The product uses GPT-3, an AI language model developed by OpenAI. It is typically the first and most promising artificial intelligence copywriter that is able to write copy that is as convincing as humans. Thus, Broca is able to deliver high-quality and consistent content at scale.
From creating slogans to refined blog posts, the marketing tool can help to generate content for all kinds of marketing campaigns. This saves a lot of the marketing team's valuable time and effort, empowering them to focus on other essential areas.
Apart from generating ad content for the campaigns, the tool also helps to evaluate the performance of the campaigns and find out what is working out. Thus, it gets easier to tweak the ads to generate a greater ROI.
Wrapping Up
Artificial intelligence helps marketers to focus on the customer and their needs in real-time. The AI algorithms collect data that makes it easy for marketers to push the right content towards the right customers through the right channels.
And with software tools like Broca, it has become even easier for marketers and non-marketers alike to enhance their content marketing efforts and launch effective campaigns within minutes.